When most people go on a road trip in northern California, they probably don't have visiting a big Paul Bunyan at the top of their list given all the natural beauty in the area. If you are looking for a place where nature meets weird, Trees of Mystery definitely delivers.
Trees of Mystery is ideal for families who want to look at the northern California Redwoods from a different perspective. Whether you are on a roadtrip in northern California, or just passing through, it is a great place to stop and put your imagination to good use. The park has oddities everywhere.
Entrance to Trees of Mystery
The strangeness starts before even stepping foot in the Trees of Mystery park. Outside the entrance is a HUGE big Paul Bunyan. His trusty sidekick Babe is right alongside him. A booming voice greets everyone in the parking lot. The voice behind the big Paul Bunyan is a mystery in itself. He shares his folklore and tall tales to all the travelers heading to the entrance. Be careful, as he is not shy to pick you out of the crowd. The lumberjack will talk directly to you!
When our son refused to take a picture with the lumberjack, he had the pleasure of being Paul's topic of discussion. The next thing we heard coming from big Paul Bunyan was, "Hey youngin'! Yes, you in the yellow shorts. Come on up here and get you pitch'er taken. Don't be scared of this big ol' lumberjack." Of course, this made our son even more hesitant. To demonstrate that Paul was harmless, I walked right up to him. This resulted in big Paul Bunyan jokingly taunting our son even more by saying "Look here, youngin'. If your mom can do it, so can you. Get on up here and sit on my boot!" It was all in good fun, and we shared some laughs. The big Paul Bunyan seemed like a nice enough guy.
End of Trail Museum
If you are on a road trip in northern California you can experience this big Paul Bunyan and Babe directly from the parking lot. Trees of Mystery also has the End of the Trail museum, and a massive gift shop you can visit without paying the admission fee. The museum works to preserve artifacts from the tribes that once inhabited this area. Other tribes are also showcased.
Each room is dedicated to a different theme. The extensive information makes for a fun learning experience. Baby carriers, stone carvings, and intricate bead work are just a few of the treasures you can explore at the Trees of Mystery museum.
Trees of Mystery Trail
If you choose to pay the admission fee for Trees of Mystery you start with a trail that highlights absurd and interesting trees. The fun is really kicked up a notch at this point. Throughout the main trail there are plenty side trails you can wander off on. Exploring these little trails was one of my favorite parts of our experience. Trees of Mystery gives way to a majestic feeling as you navigate the trails, and try to make sense of how these trees came to be. The signs, and educational pieces on the Redwoods were fun to read along the way. Trees of Mystery paints the Redwoods in a different light. Compared to the traditional Redwood trails found in the area, it offers a quirky experience.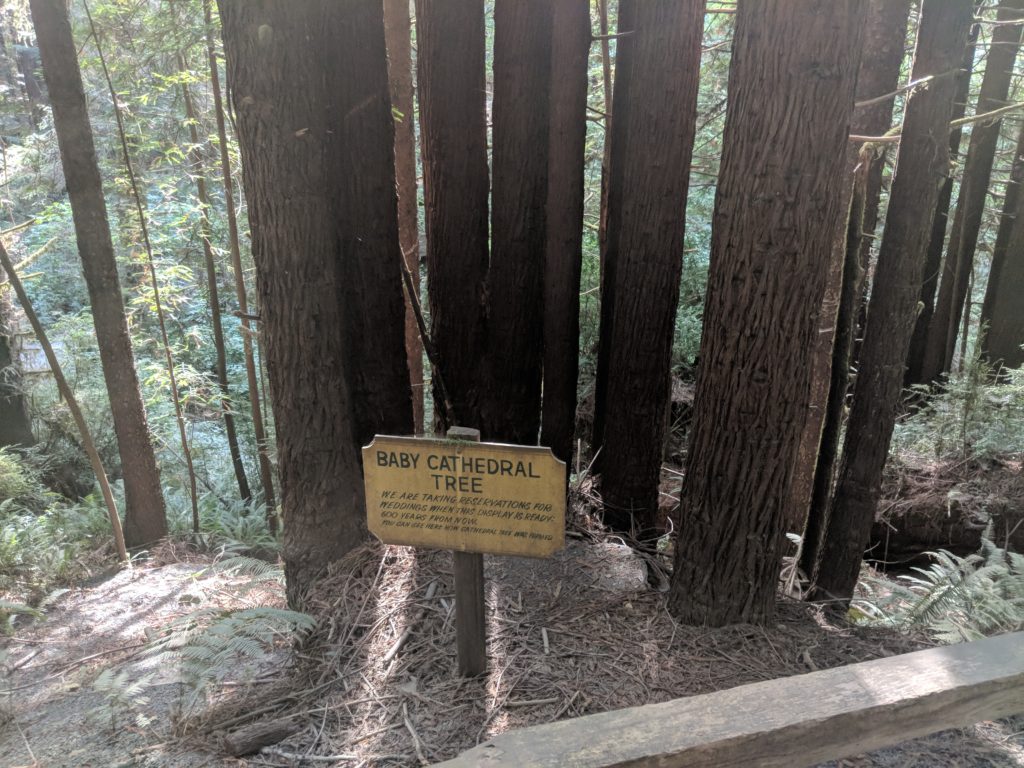 Weaving through the mysterious trees we came across everything from an octopus to a candelabra. Trees of Mystery even has its own unique Wedding Chapel. The Cathedral Tree encases the altar. We learned that The Cathedral Tree is actually nine different trees growing around where a huge Redwood once stood around a thousand years ago.
Sky Trail Gondola Ride
Halfway through the trail of odd trees you have the opportunity to take a short gondola ride. The ride climbs a hill up to a nice picnic area with scenic views. There is an option to walk up to the top, but the gondola operator made sure to tell us it would be a steep, mile- long journey. We opted for the peaceful ride and views of the Redwoods from above.
Trail of Tall Tales
After making the trek down on the gondola, you continue on the path of Tall Tales. Trees of Mystery definitely has a sense of humor when it comes to this part of the paved trail. The outlandish tales follow the life and times of the big Paul Bunyan. The carvings spark a lot of imagination and hearty laughs. A great deal of effort and intricacy was put into the wood carvings that line this area.
All in all, our experience at Trees of Mystery was full of laughs, fun, and educational opportunities. Our son described this park as being one of his favorite memories from our road trip in Northern California. If you are on a road trip in northern California, Trees of of Mystery presents a great opportunity to see the Redwoods with a little more structure and fun.