Badlands National Park is a lesser known gem among National Parks in the United States. Living in our beloved home state of South Dakota, we are fortunate to have the opportunity to regularly visit Badlands National Park. We have created the ultimate two day itinerary that captures the best camping, hiking, and travel trips for your South Dakota vacation while visiting the badlands. We also provide estimates of how long each point of interest will take.
About Badlands National Park
Badlands National Park is 244,000 acre park teeming with stunning views and active wildlife. It is reminiscent of a desert landscape that can't be found anywhere else in South Dakota. It houses one of the world's densest fossil beds. There hiking trails sprinkled through Badlands National Park that are chock full of geological and wildlife information that makes this area so special. You are almost certain to encounter bison, prairie dogs, big-horn sheep, and many other critters.
Badlands National Park is open 24 hours a day, seven days a week. It is important to check weather conditions when planning your South Dakota vacation as it is not uncommon for this area to have extreme weather events.
Visit Badlands National Park Service to check entrance fees and visitor hours.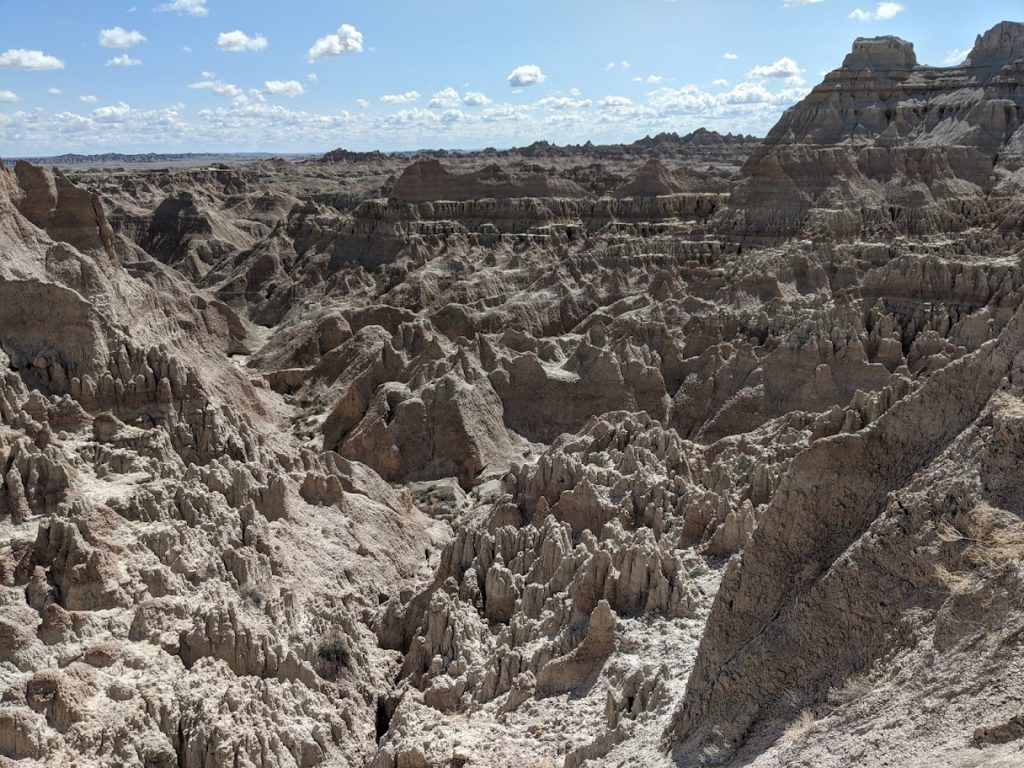 Day 1 Overview and Itinerary
This Badlands National Park itinerary is guided by entering the Northeast Entrance, and can easily be adjusted if using the Interior Entrance. If using the Pinnacles Entrance, simply start at the bottom of the Day 1 Itinerary. The below stops include estimates of time spent, but keep in mind you will also be driving to each spot which will add about 1-2 hours to your day.
Open Hike Policy: Badlands National Park has an open hike policy, meaning you are free to roam and explore off the trails. Just be sure to maintain a safe distance from wildlife, and take into account the crumbly nature of the rock features you may be climbing on!
Badlands Loop Road is the main road you will be traveling on though Day 1. Note that there are MANY stops and lookouts. Most of them are worth a gander, but the sheer number of stops can be a bit overwhelming (and frankly, exhausting). We have highlighted the ones that you do not want to miss, and you can rest assured you will still get the full experience of visiting Badlands National Park.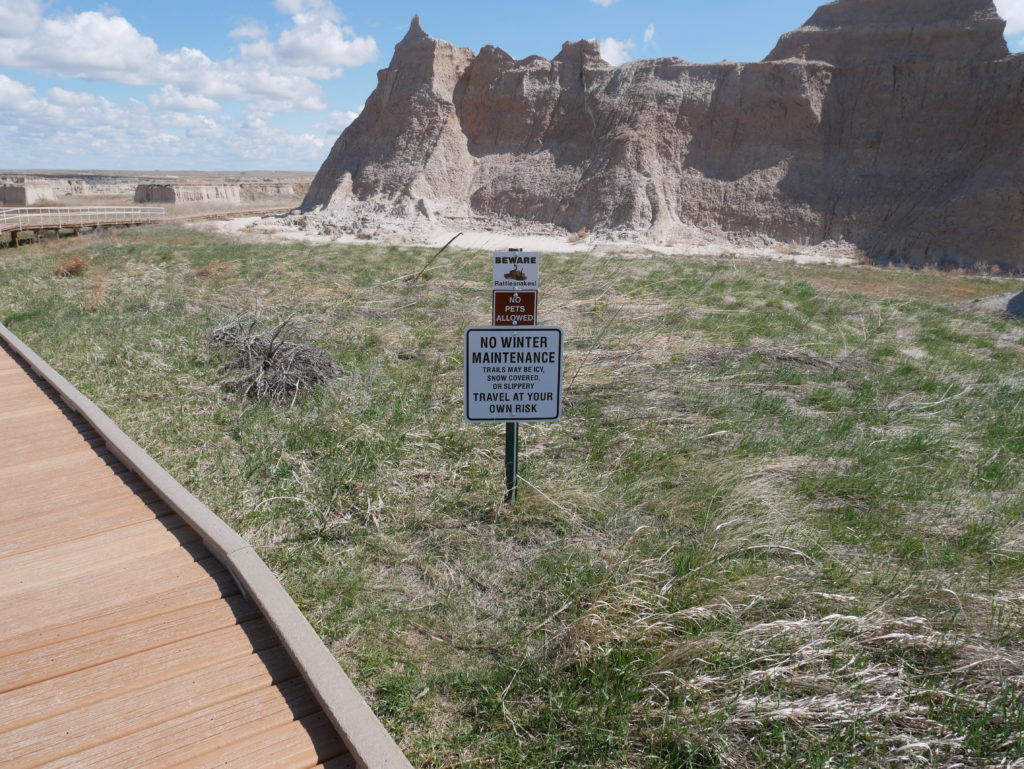 Day 1 Itinerary
Day 1 involves driving Badlands Loop Road and experiencing all the great stops along the way. Badlands Loop Road can be accessed by the Interior Entrance and the Northeast Entrance. Note that there are MANY stops and lookouts. Most of them are worth a gander, but the sheer number of stops can be a bit overwhelming (and frankly, exhausting). We have highlighted the ones that you do not want to miss, and you can rest assured you will still get the full experience of visiting Badlands National Park.
Big Badlands Overlook – 15 Minutes
Notch Trail, Door Trail, Window Trail – 2-3 Hours
Cliff Shelf Nature Trail – ½ Hour
Ben Reifel Visitor Center – 45 Minutes
Fossil Exhibit Trail – ½ Hour
White River Valley Overlook – 15 Minutes
Panorama Point – 30 Minutes
Yellow Mounds Overlook – 15 minutes
Big Badlands Overlook First opportunity to see the badlands in all their glory. There is an easily accessible viewing platform to take in the sights, as well as several short trails to get a closer look.
Notch Trail Notch Trail is a 1.5 mile moderate experience trail that leads to a log ladder. Once you climb the ladder you are able to see the "Notch" and look out over the Badlands. This is my single most favorite view of the Badlands, and if you are up for a little bit more challenging of a hike (compared to the other main trails) this is well worth it. Be weary if you are afraid of heights! This area in general is my son's favorite part of Badlands National Park. It is hard to tear him away from this area as he loves the non-stop climbing and exploring.
Note: There are three main trails in the parking lot leading to Notch Trail. In this Badlands National Park Itinerary, we recommend starting with Notch Trail as it can get a bit crowded in this area later in the day.
Door Trail A .75 mile round-trip trail. It is an easy, family-friendly trail to navigate as you continue to explore Badlands National Park on your South Dakota road trip.
Window Trail Short .25 mile trail that leads to views of an eroded canyon. If you are getting exhausted by this point, it wouldn't be too big of a miss to skip this trail and continue on through the park as there is lots more to see on you South Dakota vacation.
Cliff Shelf Nature Trail Moderate .5 mile round-trip trail. There are a good number of steps on this trail as it climbs a hill through a Juniper forest. The wildflowers and foliage are beautiful in this area of the park.
Ben Reifel Visitor Center Get acquainted with Badlands National Park while learning about the wildlife and unique geological formations in the area. The Ben Reifel Visitor Center also features a gift shop. There is a video viewing room, along with many hands-on exhibits. One of the coolest things here is the fossil viewing area. Prehistoric fossils found in the area are located in the viewing room, along with new fossils that are actively being worked on. There are also covered picnic tables in this area to grab lunch at. Lastly, it has great air conditioning, which is usually welcome after the 2+ hours of trails you have likely just explored!
Fossil Exhibit Trail Short .25 mile boardwalk style trail that is fully accessible. The trail showcases fossil exhibits and information about the extinct animals that once lived in this area. It is a great place to learn and envision what Badlands National Park once looked like.
White River Valley Overlook This overlook is a spectacular way to experience just how vast this area is. Big Horned sheep are commonly spotted in this area. You can roam out onto some of the structures here as well.
Panorama Point Do not miss this stop! It is picture-perfect and provides the opportunity to view the beautiful ridges of the badlands and all its colors. There is another overlook nearby (Prairie Wind Overlook) but given the number of stops unless you have extra time to kill this one is okay to skip. We have seen big-horned sheep here many times, but it sometimes takes a keen eye to spot them.
Yellow Mounds Overlook This colors on the eroding landscape are more unique and vibrant at this stop. The topography is absolutely beautiful. It is one of the best stops on Badlands Loop Road.
Day 2 Overview and Itinerary
Sage Creek Rim Road is the main road you'll be exploring on Day 2. This is where you'll find most of the wildlife in Badlands National Park. There are a lot of dirt and gravel roads that offshoot from Sage Creek Rim Road. Since most people stay on the main road, if you do decide to venture out don't be surprised if you are the only vehicle with your own secluded wildlife view. We usually venture out a couple miles on at least one of these roads each time we visit and this has given us memorable ways to appreciate all the wildlife found in Badlands National Park.
Day 2 Itinerary
Hay Butte Overlook – 15 Minutes
Badlands Wilderness Overlook – 30 Minutes
Roberts Prairie Dog Town – 15 Minutes
Sage Creek Wilderness Area – 1-3 Hours
Wall Drug (located outside Badlands National Park near the Pinnacles Entrance) – 2-3 Hours
Hay Butte Overlook Offers a more raw view of the badlands than other parts of Badlands National Park.
Badlands Wilderness Overlook The name gives it away. You are almost guaranteed to spot wildlife while visiting this overlook.
Roberts Prairie Dog Town Quaint prairie teeming with prairie dogs. This is the best spot to observe the funny little creatures.
Sage Creek Wilderness Area Continue on Sage Creek Rim Road and experience the wilderness in this area. Here, you are likely to come across bison, ferrets, prairie-dogs, and big-horned sheep as you drive. You can extend your day by doing back-country hiking in this area.
Wall Drug I still laugh thinking about all the road signs we saw featuring Wall Drug on our first trip to Badlands National Park. Most people would define this destination as a tourist trap, but it is so weird that you almost have to stop at it. Wall Drug is located just outside Pinnacles Entrance in Wall, South Dakota. A jackalope, famed 5 cent coffee, T-Rex, and travelers chapel are just a few of the quirky things you will find here. The shops here usually close at 6PM.
Where to Stay in Badlands National Park
There are three main lodging/camping areas in Badlands National Park. It also offers free back-country camping.
Sage Creek Campground Our preferred campground of choice. It is a free, primitive campground. The only amenities are vault toilets, but we love being closer to nature in this campground. See our Review of Sage Creek Campground to learn what to expect. This 22 site campground is first come, first serve.
Cedar Pass Campground A traditional 96 site paid campground offering a variety of options including electrical hook-ups. For more information and booking, visit Cedar Pass Lodge.
Cedar Pass Lodge Cabin rentals located in Badlands National Park. Book a cabin by visiting Cedar Pass Lodge.