Truck camping and overlanding would not be possible without exceptional gear. Below is a list of the truck camping gear and accessories that we find to be the most efficient, cost-effective, and user-friendly. We regularly use the below items on our travels and want to provide the must-haves that we don't leave home without. Our hope is that this list will give others a starting point when planning their travels.
Truck Camping Gear
WaterBrick Stackable Emergency Water and Food Storage Container | We use these bricks mainly for drinking water and cooking when we are completely off the grid. The stackable design makes for easy storage in our truck camper.
NOCO Boost Plus GB40 1000 Amp 12-Volt UltraSafe Lithium Jump Starter Box | Jump starter kit that we carry for emergencies. It is multifunctional, and can double as a phone charger and a flashlight.
Maxtrax MKII Vehicle Recovery Board | Solid, dependable recovery boards are worth every penny. We have a tendency to push limits and get in questionable terrain. These boards are extremely effective. They also do a great job of leveling out our camping spot!
Check out our Electrical Install & Dual Battery Set Up Guide for more ideas.
Overland Camping and Cooking Gear
Kelty Cosmic 20 Degree Down Sleeping Bag – Ultralight | We travel in the northern states quite often and even though we have a decent heater in our camper, it can still get cold. This Kelty sleeping bag is super comfortable and ensures we stay warm through the night. It also has built-in pocket that you can keep cell-phones in. We have used ours for over 3 years and the quality has held up.
KingCamp Silver Camping Table | This is the perfect portable aluminum camping table. It collapses into a small bag for storage and is extremely easy to clean. It is super sturdy and can hold up to 176 lbs.
Volcano Grills 3-Fuel Portable Camping Stove/Fire Pit | This grill expands and collapses extremely easily. Simply, grab the handle and lift up and the whole unit pops up and the legs pop out and it is ready to go. We continue to be impressed by the quality, and the delicious burgers it produces. Our Volcano 3 Grill Long-term Review shares more details.
Thermacell E55 Rechargeable Mosquito Repeller | Thermacell is one of the products we have used the most. We like to go deep into nature whenever possible, which of course means bugs. I couldn't believe how effective this was at keeping away mosquitoes and now it is an absolute staple while we are camping.
Ivation Portable Outdoor Shower, Battery Powered | This camping shower kit is lightweight and portable. It comes with a rechargeable battery, which can work for up to 60 minutes. Super easy hookup when you are needing a quick shower in the middle of nowhere.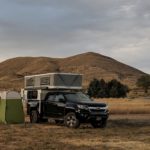 Leader Accessories Pop Up Shower Tent | This shower tent doubles as a bathroom and shower when we are on the road. The compact design makes for easy storage. It is roomy enough to comfortably move around while going about your business. It also seamlessly fits the portable toilet that we have outlined below if you need a more private outdoor waste option.
Cleanwaste Portable Toilet | Our biggest concern with a portable toilet is easy clean-up, and this one fits the bill. It fits into a compact box for easy storage.
Adventure Medical Kits – 163 Pieces | Luckily we haven't had to put much use to this kit, but we like to take it along for longer hikes. It has everything you need for an emergency.
Note: Article contains affiliate links, meaning at no cost to you, I will earn a small commission on purchases made from the links in this article.