Redwood National Park in Northern California offers trails of all lengths from the challenging Lost Man Creek Trail (22.0 miles), to the well known Lady Bird Johnson Grove Natural Trail (1.4 miles). Ultimately, we decided to take on the Trillium Falls Trail. Like many of the surrounding trails, this 2.8 mile trail brings you through old growth redwoods offering some truly astounding views.
Stepping into the Redwood National Park is nothing short of a real life fairy-tale. Your eyes are immediately drawn to the variety of plants and life that cover almost every surface. Moss and ferns surround the landscape creating a sea of every shade of green imaginable. New habitats are created by the old fallen trees, and they are seemingly swallowed by the forest.

Redwood National Park is also full of rich streams that only add to the majestic scenery. Many of these creeks can be seen from the multiple trails that run throughout the national park.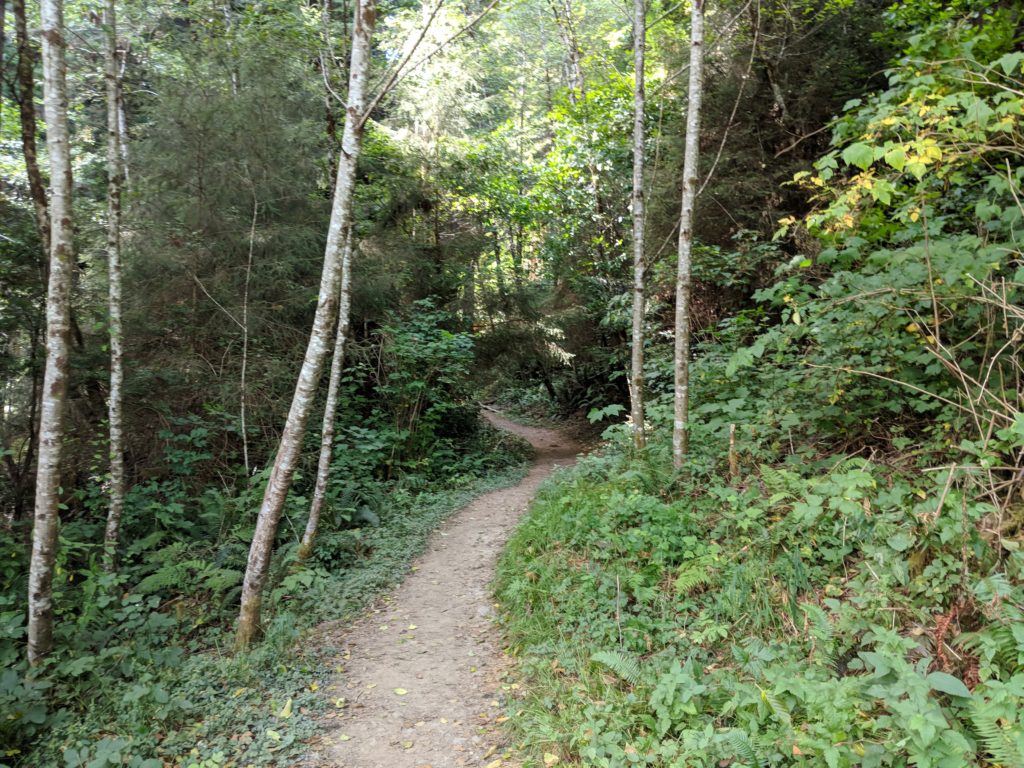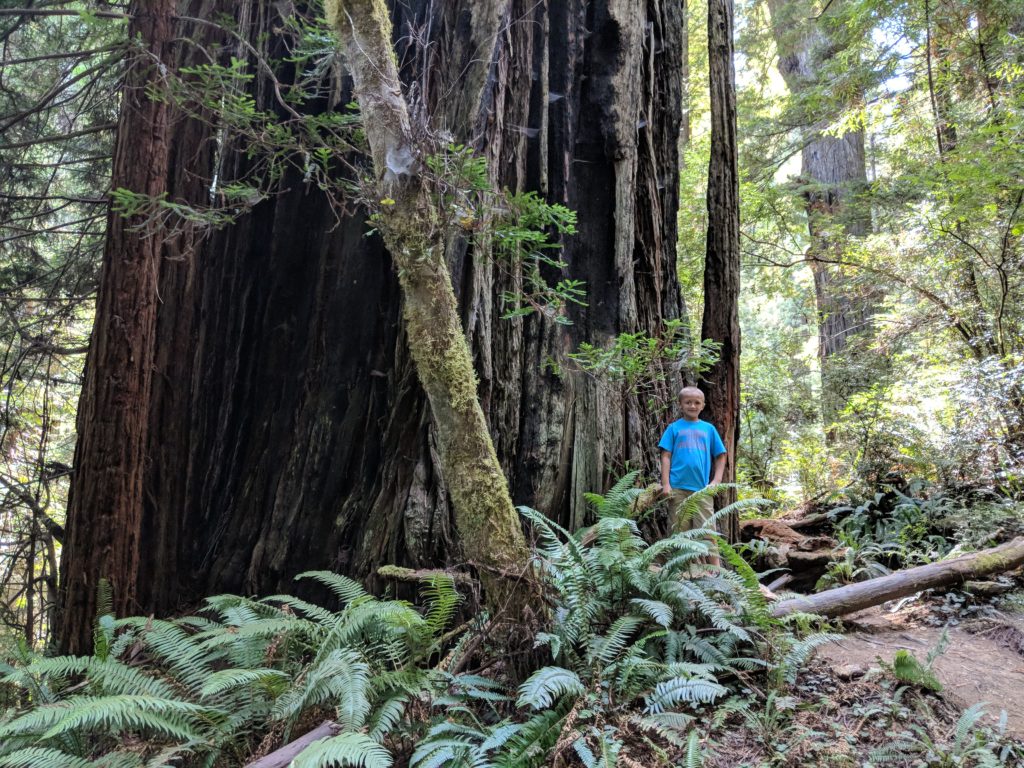 Trillium Falls Trail
Trillium Falls Trail is located in Redwood National Park, just north of Orick. To access the Trillium Falls trail head, you will turn off west on a road with signs for the Elk Meadow picnic area. The road will take you up towards Davison Trail, and Trillium Falls Trail. As you pull off you are greeted with the charming views of Elk Meadow. An old sawmill once ran in the area. It has since been reclaimed as an open prairie for wildlife to graze on.
There are plenty of areas to stop on this stretch of road that highlight this golden prairie. Signs were everywhere warning us not to approach the elks, so we figured these elks must mean business. We were eager to see the elks in action, but we were not fortunate enough to catch a glimpse of them. It did appear to be a great place to stop and observe the wildlife in the area when (and if) they are ever present.
After passing Elk Meadow there is a parking area for the Trillium Falls Trail Trail head. Several informational boards about the hiking trails in the area are located here. We took notes, and headed down a paved trail and soon ran across the dirt path for Trillium Falls Trail.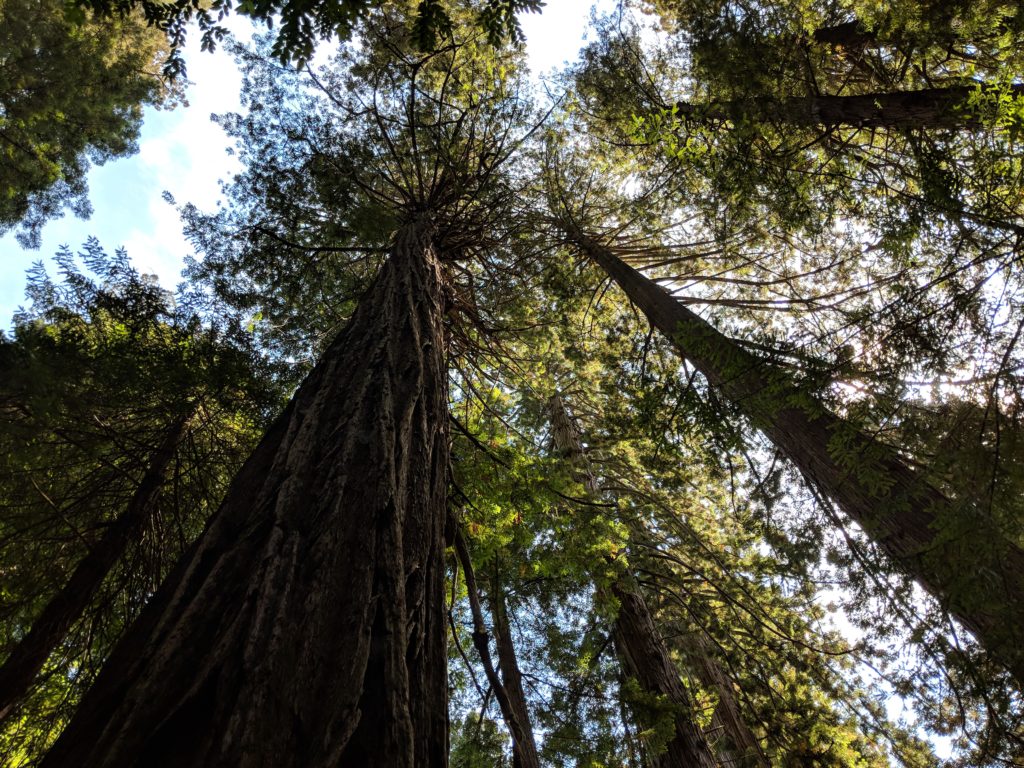 As you start on the path of Trillium Falls Trail you come across the ancient Redwood giants almost immediately. Seeing these trees for the first time was such a unique experience. From the canopies, the massive roots, to the birds chirping it is hard to take in everything all at once. Trillium Falls Trail is very open and there are plenty of areas to stop and take your time.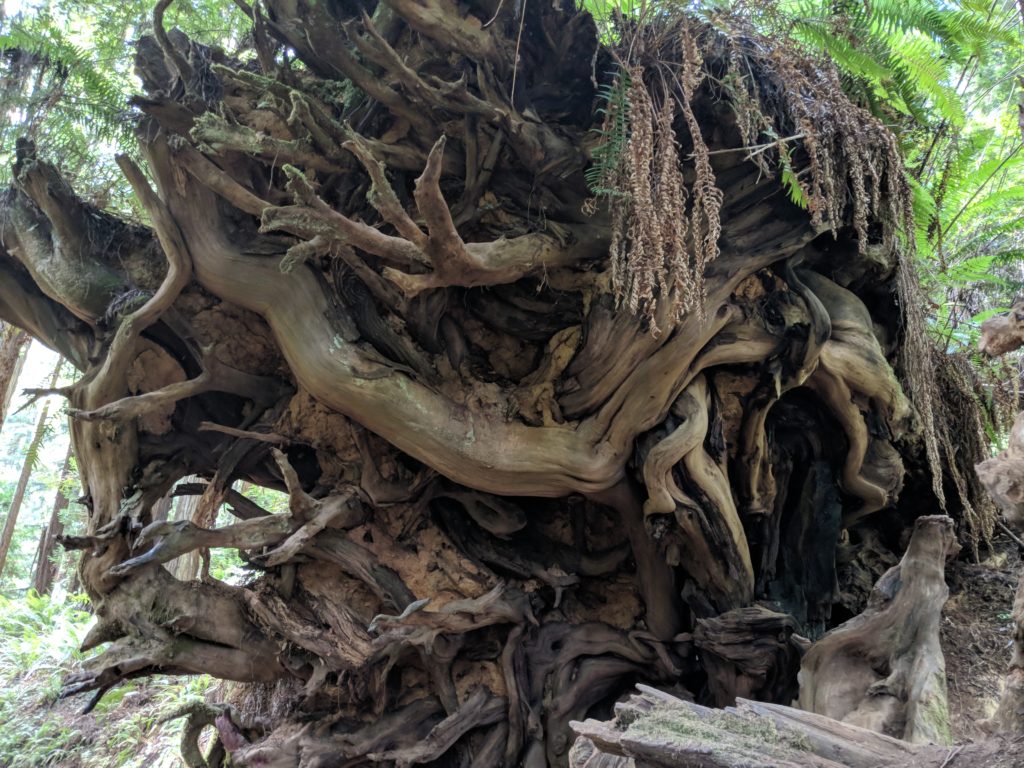 The towering giant trees do a good job of making you feel very small. I half-expected to find some mythical creatures. We were somewhat amused when our son overheard the sounds of someone playing the banjo, and he asked us if it was a leprechaun. We had a ton of fun looking at the unique features of the trees. This resulted in making a contest out of who could take the most creative picture.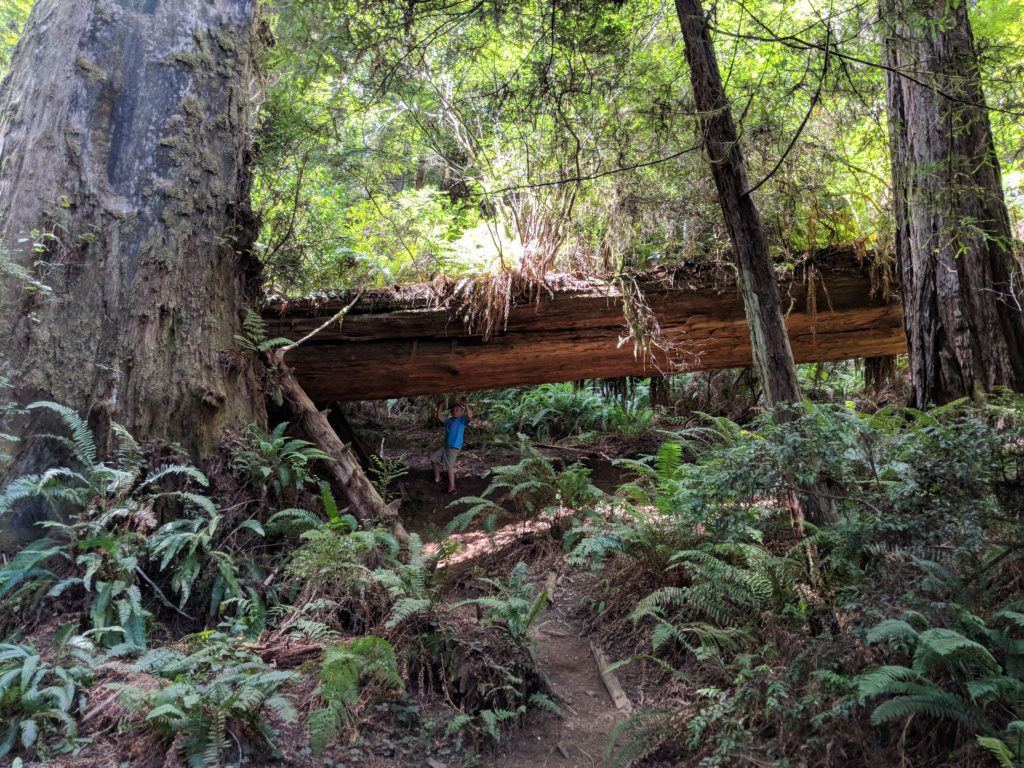 As you continue on Trillium Falls Trail, you come across a footbridge where you can view the small waterfall that gives the trail it's namesake. The "banjo people" were off the trail under the waterfall. This was a little strange as they were singing very loudly. These fellow hikers were the only individuals we came across as we progressed on one of many trails that Redwood National Park offers.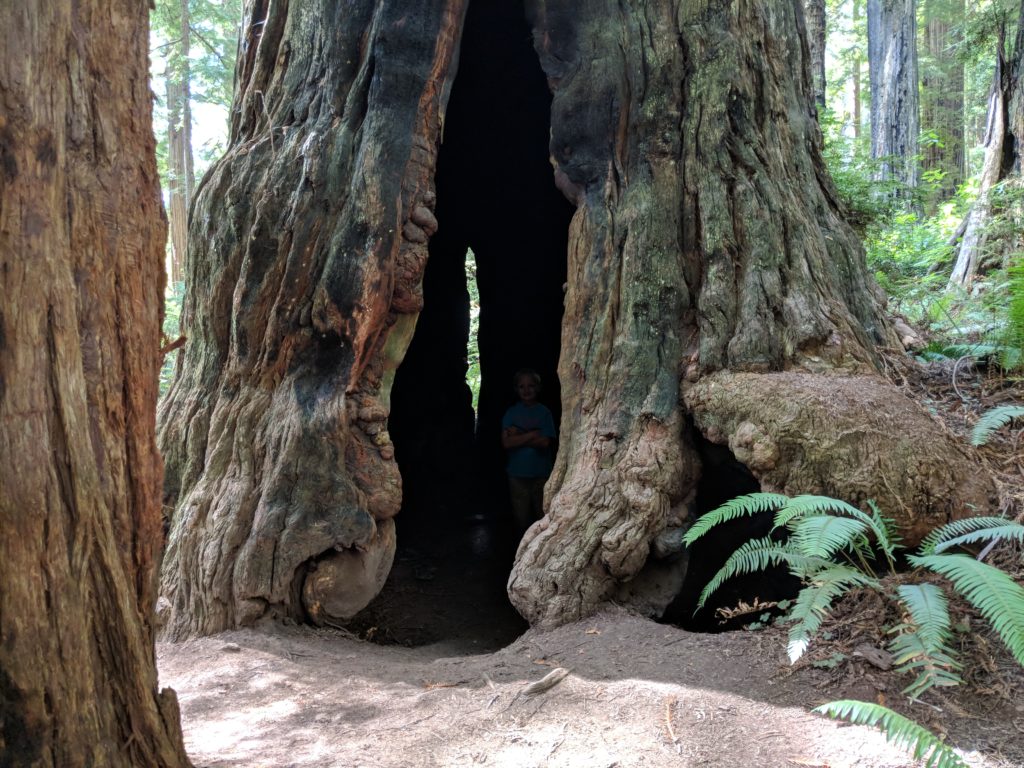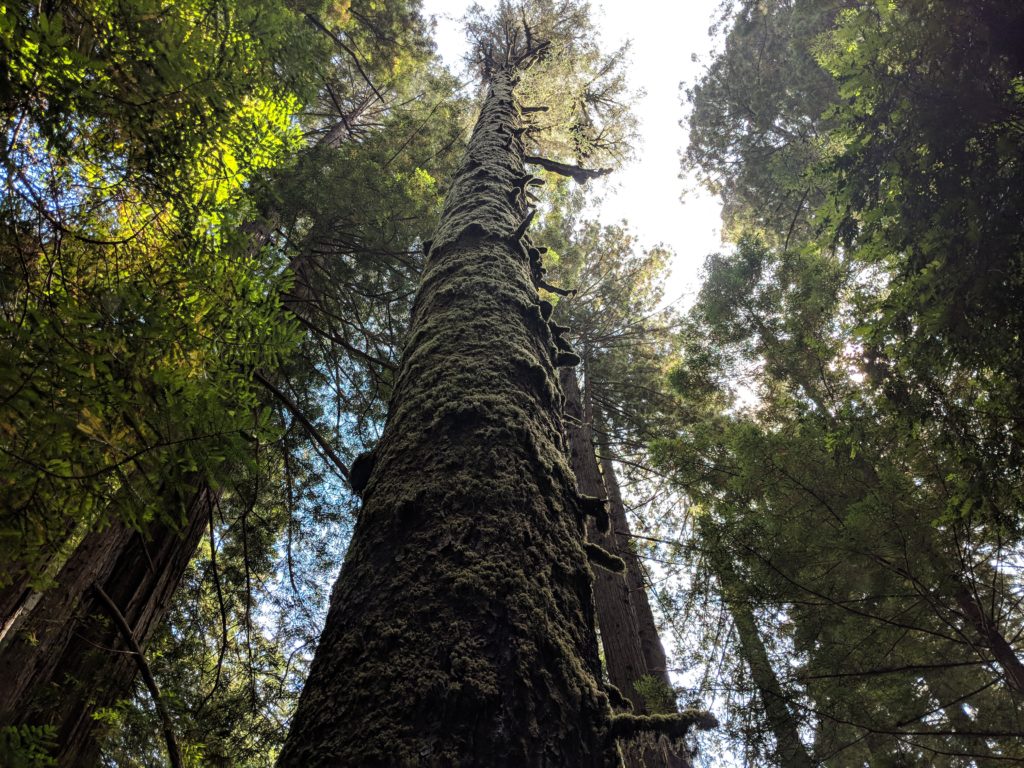 Halfway through Trillium Falls Trail is when you come across the oldest redwood growth. Pictures really can not do this place justice, you have to get out there and explore it for yourself to truly experience it. Despite climbing only 440 feet, this trail does contain many switchbacks and has a moderate difficulty rating. The trail is very well maintained, and ideal for families as long as you bring plenty of water and sturdy shoes.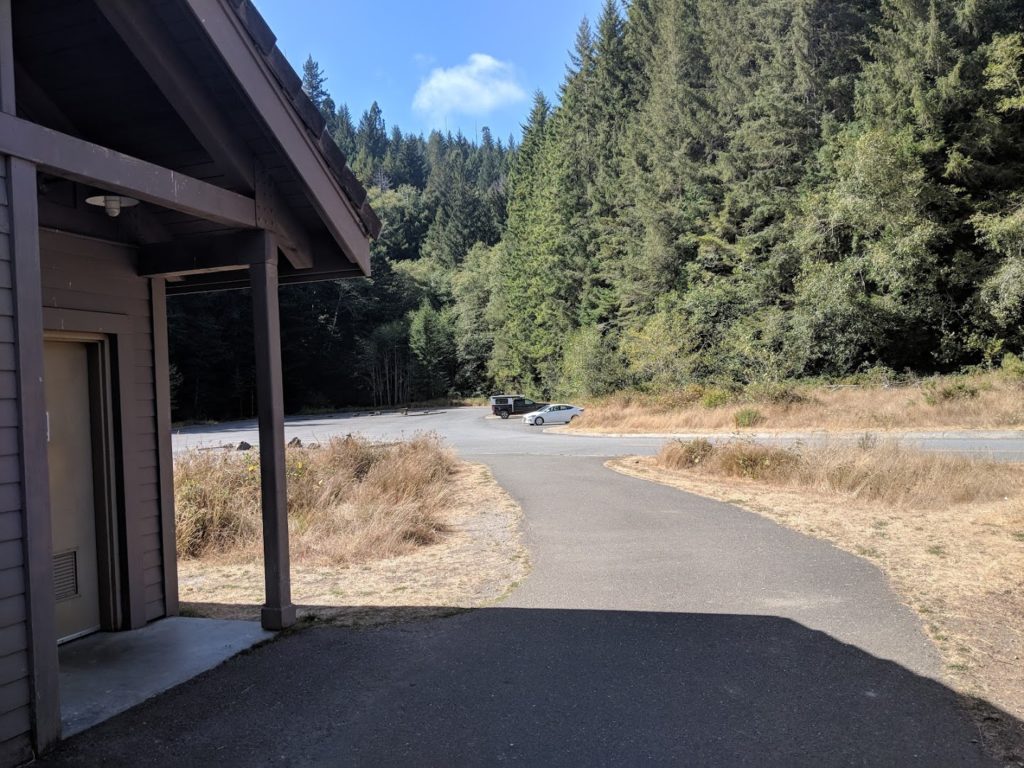 As we left on the 101 towards our next destination, we passed several logging trucks. They were a constant reminder to be thankful that steps were taken to preserve these majestic trees. After all, it can't be an easy feat to live to be 2000 years old!